Embedded Audio
Putting Sound Into Your Product
Turnkey or component audio systems that can work in a wide range of products: Kiosks, digital signage, exercise equipment, games, industrial systems
Our engineers support your engineers with full SolidWorks CAD modeling and prototypes
Your choice of US or Asian manufacturing to add your logistincs
Add voice, music or simple audio tones into your equipment. We provide speakers, enclosures, amplifiers, grilles – everything you need to have audio in your product. Whether you need voice, full range music, or simple audio tones indoors or outdoors, MISCO has a solution for you. We draw on decades of experience helping companies add and improve audio systems in a wide range of products.
VIEW A SAMPLING OF EMBEDDED AUDIO PRODUCTS
---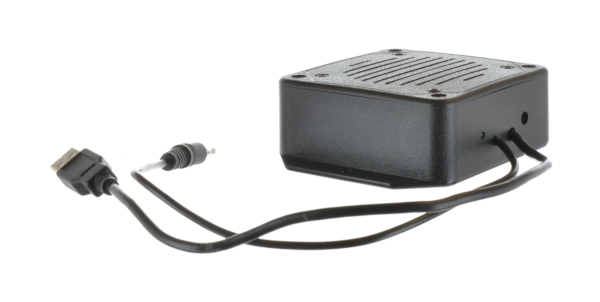 3.3" USB Voice Range Speaker Enclosed with Amplifier
Misco OEM Part # 70094

A treated cone and a high-power neodymium magnet within a plastic enclosure make this an environmentally resistant, all-in-one product. That, paired with a built-in mono power amplifier, provides amplified sound right out of the box.
Voice Range Speaker
3.3" (83 mm) Diameter
4 Watts, 8 Ohms
High Power Neodymium Magnet
USB-Powered Mono Power Amplifier
Low Distortion

2" x 3.5" Race-Track, Wide Range Speaker
Misco OEM Part # 90ON08-1WP

This race-track speaker fits full range sounds into narrow spaces. The cone balances its size restrictions with a maximized surface area to maintain high quality output. A set of polarized terminals reduce connection errors and simplify system assembly.
Wide Range Speaker
2 x 3.5" (51 x 89 mm) basket diameter
7 watts, 8 ohms, 88 dB SPL
0.75" copper voice coil, paper former
Neodymium magnet, stamped steel basket
Paper cone, cloth surround

2 Channel, 100W, Enclosed Amplifier with Volume Control
MISCO OEM Part # 93103

A 100 watt, class-D, two channel amplifier wrapped in an aluminum enclosure, with compact design for quick and easy installation into your products that require decisive amplification. Input options include a 3.5mm audio-in jack, 2.1mm barrel DC power, and an added 2x2 MFJ for direct line-in connections for audio and power.
50W x 2 class-D amplifier
Stereo analog input connections
Master volume control
Sound enhancement (jumper selectable)
Rugged aluminum enclosure
Ground noise rejection filtering on inputs
---