Speak Your Tone...
ToneSpeak™ guitar speakers are the result of years and years of the deep-dive for the perfect tone. Decades of testing, field experience and conversations with elite tone-chasers have all been poured into these fine products. When you play ToneSpeak, you play the best.
Visit the ToneSpeak website to learn more about:
Product Specs
Collaborating Artists
Impulse Responses
Speaker Demos
More...
---
GUITAR SPEAKERS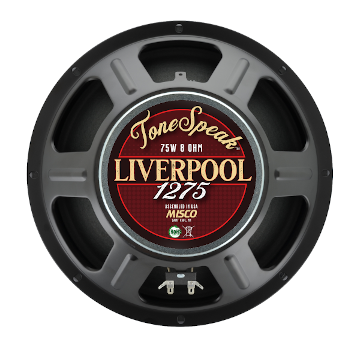 12" / 75 Watt / 8 Ohm
A speaker truly worthy of The Crown!
The Liverpool 1275 is the classic British rock tone, inspired by tones from the 80's. A complex, thick and vocal midrange cuts through the upper-register, while nice, full, lower-mid grunt completes the warm, gutsy, tight lows. The highs, while clear, open and articulate remain warm and ear pleasing.
12" / 90 Watt / 8 Ohm
Cleaner, higher power British tone.
Even and balanced from top to bottom. No sacrifice in tone for using higher power and/or higher gain with this speaker, it is crammed full of balance, definition, and most importantly, control. This speaker plays well with pedals and is slow to break up.