Casino Gaming
• Turnkey audio system design and manufacturing
• Custom frequency response for top performance in the gaming environment
• Choice of US or Asian manufacturing
• Kanban stocking programs in the US and offshore for improved cash flow and efficiency.
MISCO is an experienced leader in the field of audio for the gaming industry. We can provide everything from individual speakers to system solutions including amplification, digital signal processing (DSP), enclosures, and wiring harnesses—ready to drop into your cabinet. MISCO gaming speaker solutions focus sound on the game player and provide a sonic impact that enhances the gaming experience and keeps players playing longer. See CREATING AN EXCITING CASINO GAMING AUDIO EXPERIENCE​​​ and MILLENIAL CASINO PATRONS EXPECT HIGH-PERFORMANCE AUDIO (PDF).

OEM clients may choose from available MISCO designs, or commission custom build-to-spec solutions, or have MISCO manufacture your build-to-print designs. Whichever path you choose, we will help you reach your performance standards and business objectives.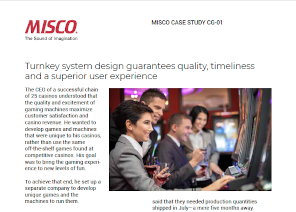 Read about one casino operator's delight in choosing MISCO for his project.
VIEW TURNKEY SYSTEMS FOR CASINO GAMING CABINETS