Drive-Thru & Kiosk
Great Audio Just in Time for Lunch
High durability in the most extreme environments
High sensitivity and speech intelligibility
Available as unenclosed speakers or enclosed in durable plastic housing
Amplifiers and amplified speakers available!
A consistent outdoor drive-thru system needs durable, well constructed speakers that produce clear sound even in extreme heat, cold, humidity, and aridity. MISCO's decades-long experience in outdoor audio ensures that you receive the best solution to fit your environment's conditions, and allows your services to continue uninterrupted throughout the day.
OEM clients may choose from available MISCO designs, commission custom build-to-spec solutions, or have MISCO manufacture your build-to-print designs. Whichever path you choose, we will help you reach your performance standards and business objectives.
---

3" (77 mm), 8 Ohm
Voice Range Speaker
Misco OEM Part # DC3WP

The DC3WP is a durable, temperature resistant driver made for outdoor intercoms and other voice communication applications. High sensitivity output, and easy soldering and hook-up to your wire harness. A complete waterproof treatment also ensures it outlasts the elements in a variety of environments.
Voice Range Speaker
3" (77 mm) Diameter
6 Watts, 8 Ohms
-67°F (-55°C) to +185°F (+85°C)
Acrylic Treated Cloth Cone, Waterproof
87 dB SPL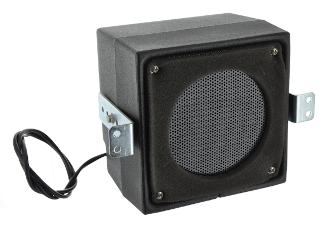 4" Waterproof Enclosed Menu Board Speaker
Misco OEM Part # 90274

A high output wide-range speaker built with environmental protection. Enclosed in a stress-free plastic enclosure with mounting brackets, and mounted with a protective PVC screen with foam.
Wide range speaker
4" (102 mm) basket diameter
25 watts, 8 ohm, 94 dB SPL
Polypropylene cone and dust cap
Plastic enclosure with PVC screen with foam attached
Adjustable steel mounting brackets

5.5" (140 mm) Two-Way Horn Speaker
MISCO OEM Part #88104-B

Powerful and efficient audio for two-way communications. This specialty horn speaker uses a weather and corrosion resistant design and high durability materials to remain dependable and understandable longer than other speakers. Choose this driver if you need specialized, high-quality, and reliable sound.
5.5" (140 mm) diameter
Voice range horn speaker, 8 ohms
107 dB SPL @ 1 Watt, 1 Meter
40 watts, 1 Octave at 2 kHz, averaged; 123 dB max SPL
ABS plastic horn bell & assembly
Phenolic diaphragm, ferrite magnet
Black anodized aluminum heat sink
Stainless steel screws
2 conductor, 18 AWG stranded, inner & outer PVC insulations
---